Video Solutions
Marketing & Informational Solutions
Sales Videos ∙ Product Information Videos
Corporate Videos ∙ Broadcast Commercial Spots
Do you understand what makes your business unique and why customers buy from you rather than your competition? Is it difficult to highlight your intangible benefits to your prospects?
Whether your unique strengths are people, facilities, processes, service, or technology, video makes your unique capabilities visible and improves your sales and profits.
Improve sales by equipping your sales force with effective marketing videos:
Video Content for Web Sites

–

Enhance

your web presence with video clips made especially for web sites.
Video Brochures

–

Highlight

your business with the impact of a video brochure, often at lower costs than other media.
Broadcast Commercial Spots

–

Reach

potential customers with cost-effective TV commercial spots broadcast through local cable outlets.
Trade Show Sales Videos

–

Grab

the attention of attendees and improve visibility of your company or product at trade shows and conventions.
Product Information Videos

–

Educate

customers about products or services they have purchased.
Successful Training Solutions
Is your training comprehensive and consistent? Do you need to reduce training costs and overhead?
Whether you need to orient new hires, train employees, teach customers how to use your products, or record seminars for future or off-site viewing, Sweetwater Video Productions combines the expertise required in video production with a thorough understanding of business practices to craft a video that meets your training needs.
Enhance your company's training experience by using video for:
Orientation Videos

–

Ensure

important policies and procedures are outlined and communicated effectively and help new employees experience the company culture.
Employee Training Videos

–

Reduce

costs and systematize your training to provide consistent quality and learning for your employees and clients.
Instructional Videos

–

Increase

customer satisfaction and reduce the burden of technical support.
Seminars

–

Maximize

training dollars by recording seminars for future employees, absent employees, and employees in remote locations.
Video Streaming

–

Stream

video across the Web for clients or remote company locations.



Let Sweetwater Video Productions help you:
Standardize

presentation of important concepts to ensure best practices are sustained and repeated

Deploy

training resources more effectively by recording your best program and presenting it over and over.

Improve

your training program with a professionally produced video that reflects your company's commitment to quality.

Leverage

your video investment with cost effective updates.
Informative Safety Videos
Visitor Safety Videos ∙ Contractor Safety Videos
New Hire Safety Videos ∙ Plant Orientation Videos

Your company's goal is for employees, contractors and visitors to go home safe to their families at the end of the work day. Even with all you do, the unexpected can still happen. Are you sure everybody in your plant knows what to do when the alarm sounds?
Whether you need to educate visitors, new employees, or contractors,
video communicates vital information

they need to stay safe inside your plant.
Improve your plant orientation program with a professionally produced video that reflects your company's commitment to safety:
Plant orientation videos

–

Highlight

the unique safety requirements and hazards for your plant.
Safety Videos

–

Customize

safety information for visitors, contractors and new hires.
Sweetwater Video Productions

uses video shot on location inside your plant to show viewers how and where to shelter in place, where to check in with plant personnel in an emergency, evacuation routes, what to do in case of chemical contact, and how to use safety showers and eye-wash stations. We include information about proper PPE, banned substances, driving regulations, special hazards, and more.
Live Event Recording & Webcasting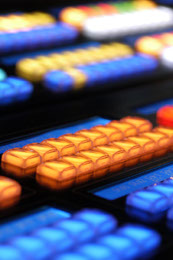 Do you need to record company meetings? Would you like to webcast events on your network?
Whether you want to record a company event, publish a meeting on line, or send video in real time to remote company sites, webcast video streams your content from any site that has broadband access to any site with an Internet connection.
Stream video live to the Internet:
Company-wide meetings

–

Ensure

everyone in the company has access to the same meetings while reducing travel costs and time away from remote offices.
Product Announcements

–

Inform

sales staff and key customers of new products and upgrades by streaming product announcements directly to their computers in real time.
Sweetwater Video Productions

produces live video using multiple cameras, graphics and pre-recorded audio and video. At the same time, we record your live event and can upload it to your company's site (or record it to DVD) for future use.
The video production process is more than just a person shooting video with a GoPro or smart phone. Our process of
defining

business objectives,

planning

the project,

producing

the video and

following-up

ensures

successful results. We believe we are not done until you are satisfied.

Learn

how our Production Process can benefit you.
To learn more about Sales Videos, Product Information Videos, Corporate Videos, Broadcast Commercial Spots, Duplication & Packaging Services, Live Real Time Broadcasting and other services, request a Complimentary Consultation.